Energy Efficiency with Ceiling Fans
Ceiling fans use minimal energy and operate at a fraction of the cost of air conditioners. Ceiling fans will save you money in both winter and summer. In summer, the blades are set anti-clockwise and you will obtain a cool breeze making your home and/or deck more comfortable. A good quality ceiling fan can make a room feel 4 to 5 degrees cooler. Based on this money saving information, we recommend that you consider ceiling fans in your home and call Globe Electrical Solutions for ceiling fan installation work.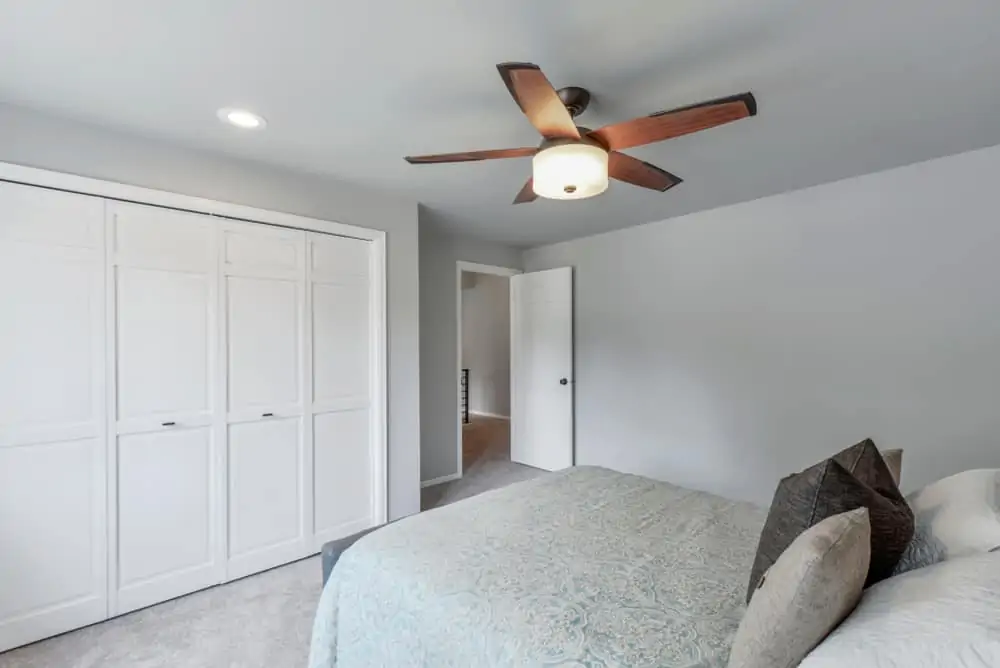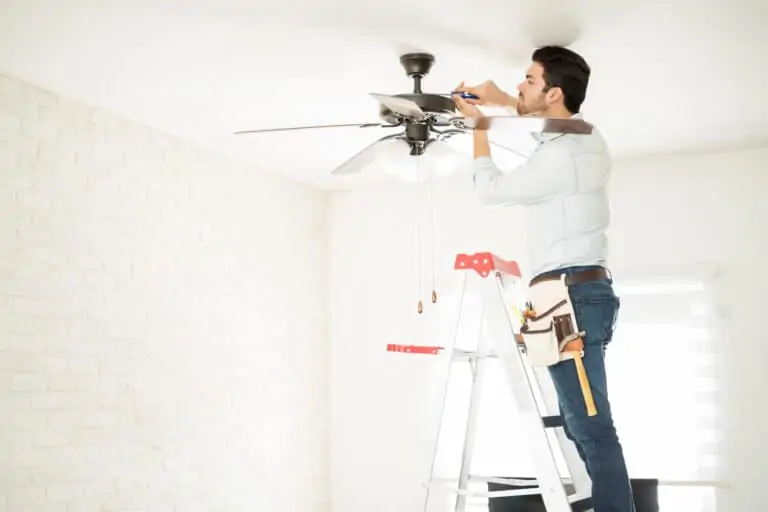 Ceiling Fans Reduce Electricity Usage in Summer
Ceiling fans also mean you will use your air conditioner less, therefore you will reduce electricity usage.
When it is really hot and you need to use your air conditioning, then your ceiling fans will still save your cash. You should run your ceiling fans at the same time as your air conditioner. When doing this, you can now set your air conditioner to cool at a higher temperature. Your air conditioner does not need to be set as low as it was previously as your ceiling fan now assists with the cooling.
The higher you set your air conditioner to cool to in summer, the less electricity you will use. Hence the greater level of saving on your electricity bill. Ceiling fans used in conjunction with air conditioners can save you around 40% of your cooling costs.
Ceiling Fans Reduce Electricity Usage in Winter
In winter, ceiling fans reduce electricity usage too. The blades are set clockwise so that the fan will push down warm air from the roof of your home, making it warm and comfortable. In the same way as when using fans in summer, ceiling fans mean that you can set your air conditioner to heat at several degrees lower. This helps you save on electricity bills.
It is recommended that the fan be run at a low speed in winter to make sure that there is no wind chill effect. It is generally agreed that when using a ceiling fan in conjunction with an air conditioner, it can reduce your heating costs by around 10%
Ceiling fans themselves are very economical to run. Typically ceiling fans use around the same amount of power as a 60 watt light bulb. This equates to around 3 cents per hour.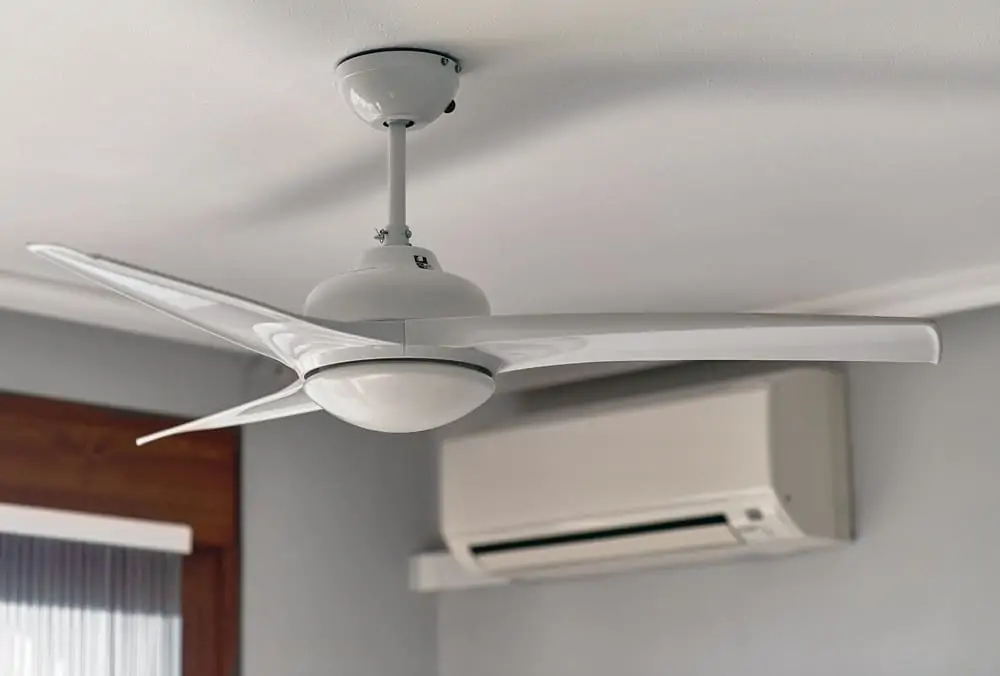 Other Advantages of Ceiling Fans
In addition to being energy efficient and saving you money, ceiling fans will help keep mosquitoes and other flying insects from your home or deck.
Ceiling fans, in contrast to pedestal and floor fans, consume less electricity. They are also safer as they won't be knocked over by children.
Finally there are some really attractive ceiling fans on the market now that provide the 'wow' factor to your home or deck.
Ceiling Fan Installation Cost
Ceiling fans need to be installed by a qualified electrician such as the electricians at Globe Electrical Solutions. Ceiling fan installation cost is dependent upon a number of factors. These include the number of fans to be installed, whether it is replacing an existing fan or light, the height of the ceiling, whether there is access to the ceiling and whether there is a timber beam available to install the ceiling fan onto.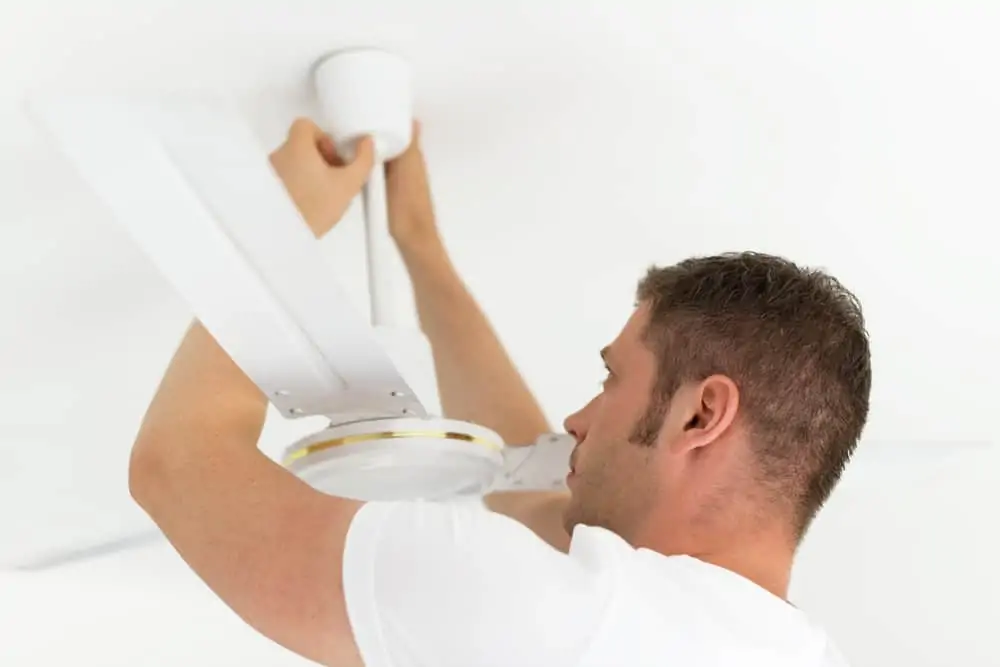 Ceiling Fan Installation with Globe Electrical Solutions
Jason is a Brisbane Electrician who, with his team, has over the years installed hundreds of ceiling fans into Brisbane homes.  Ceiling fan installation can be quite a quick process, depending upon the type of fan and where it is to be installed.
At Globe Electrical Solutions, our rates are very competitive, yet our workmanship is excellent.  We are also very knowledgeable about the different ceiling fans on the market and can advise you which brand and size would suit you and your budget best.
Please phone the team of electricians at Globe on 0433 209 393 and we can provide you with a quote to install your ceiling fans and schedule a time to undertake the work that best suits you.
FYI Globe are also expert solar installers Brisbane.
Contact Globe Electrical Solutions for a Pre Purchase Electrical Inspection
With a pre-purchase electrical inspection, you can ensure that the property you are purchasing is safe and sound from any electrical faults or hazards.  You can also be rest assured that in terms of the property electrical system, you are making a sound investment in your purchase.
Contact Globe Electricians on 0433 209 393 and we will schedule a date and time to inspect the property that you are considering purchasing.
We'll call you with honest, reliable advice to get your project completed on time and on budget.