Solar Energy Use by Australian Households
The growth of solar energy use in Australia has been rapid and driven by the high cost of electricity. According to information provided by the Australian Bureau of Statistics in 2014 one fifth of all Australian Households use solar energy.
The figures for growth in use of solar panels has also been reported and showing very strong growth. The ABS found that in 2011 only around 5% of households had solar panels. Within just three years this had grown to 14%.
Where is Solar Energy Used in Australia?
The uptake and solar energy use in Australia varies by state. South Australians have the highest level of use(24%), followed by Queensland. The third highest usage is in Western Australia (16%). The other states make less use of solar energy as shown in the graph below.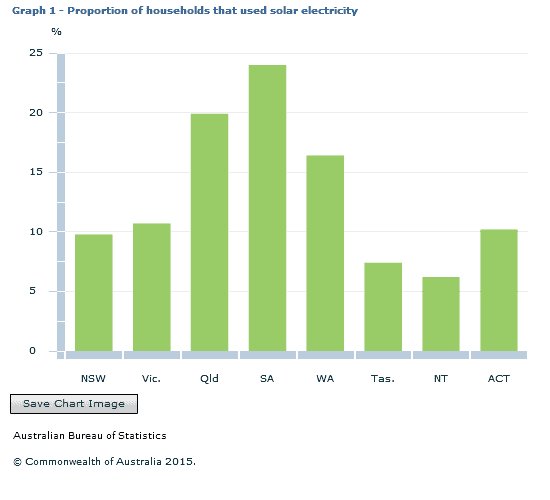 In relation to solar hot water systems the ABS reported that over 50% of Australian families use electricity for hot water, 38% use mains gas and just 10% use solar hot water systems. It was also found that some Australian households use more than one source of energy for hot water such as solar systems and electricity.
Solar Panel Installation in Australia
The number of Australians who had solar panels installed on their roof in 2001 was only 118. A massive growth then occurred with the number beaching 85,550 by 2009. BY 2011 this number was a massive 639,803. The latest figures for 2012 are 750,000 and still counting…
Factors Causing Growth in Solar Panel Installation
The increase in solar energy use in Australia has been led by the high costs of electricity and by various types of government subsidies. The generosity of government subsidies is now decreasing. However many Australians now see the value of investing in solar panels and with the advent of solar batteries further grown of solar energy use in Australia is predicted.
Solar Panel Installation in Brisbane
If you too are contemplating the value of solar panel installation and live in Brisbane please contact Globe Electrical Solutions. The team of electricians at Globe Electrical Solutions provide the best service for choice of solar panels Brisbane as well as installation and maintenance. This is because Globe Electrical Solutions are accredited and experienced solar installers as well as qualified and expert electricians. Join the thousands of Australians installing solar panel systems. And do it affordably with Globe Electrical Solutions.
Solar Installers Brisbane – Globe Electrical Solutions, Brisbane Solar Electricians
Statistics quoted in this article are sourced from Australian Bureau of Statistics Environmental Issues: Energy Use and Conservation, March 2014. Cat no 4602.0.55.001